Discover more from Riechers/Gebhard
Life updates and other things from Mark Riechers and Laurie Gebhard.
Home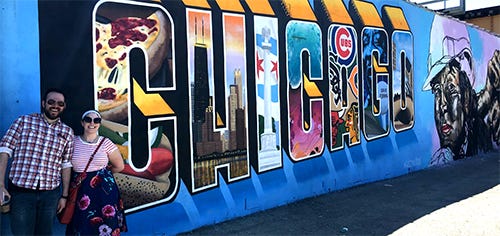 As official adults, we've decided to issue an occasional communiqué to update you all on our whereabouts, activities, designs, schemes, doings, and other such nonsense. It would have been lovely to start with something light and fun, but after many hugs, cries, rants, ice cream blowouts and pondering conversations during our long and frequent drive between Chicago and Wisconsin, we've realized we're kicking this thing off with big but bittersweet news: we're coming home to Madison to stay.
How did we get here?
We moved to Chicago just about three years ago, in June 2013. At the time, it seemed like a pretty crazy departure for us. We knew we'd miss home and the people we love, but we needed to experience some living off the isthmus before we could really put down roots anywhere. We planned what a friend affectionately called "the safest move to a big city possible," moving three hours south into hostile football territory to experience life in the big city—Laurie took a job working on the southside of Chicago at an inner city daycare center in a neighborhood called Altgeld Gardens, and I took a job writing about economic research for the University of Chicago.
From the moment we decided to make the move, Chicago has been a barely-making-it-under-the-Indiana-Jones-temple-door affair. I accepted my job offer during the garage sale we held while Laurie was already training for her first year teaching down in Chicago—just about two weeks from moving to an expensive new city nearly jobless and panicking. I hurriedly drove a comically oversized UHaul on that Great Migration from our house on Harvey Street to our apartment in Lakeview, bustling the boxes and furniture carefully packed by our family and friends up three flights of wooden fire escape stairs, meeting movers who carried each piece two stairs at a time, tearing up corners of furniture and taped together Marcus Theaters boxes along the way. I remember taking a breath one night in July, as fireworks from a Blackhawks victory blasted over the lake, thinking that we just barely pulled it off. We basically pulled off the world's greatest heist by tricking the universe into making jobs happen, apartments found sight unseen, movers not be Craigslist killers. We made it. We could do anything.

It was that realization—that as a team, we had the right mix of stubborn bravery and momentary bursts of attention to detail to do pretty much anything we decided we wanted to do. That made it feel like the right time to get Bacon. Also, to get married. It took a year (and lots and lots of trips back home) to plan, but it was a pretty good time.
We've been married for about nine months, and we love each other more every day. (Laurie's note: "gross") Marriage isn't easy—you have to open yourself up to the pain, fear, and doubt that comes with developing complete faith in another person's ability to, in your darkest moments, watch you fall apart and help put you back together. But it's totally worth it because you both know how hard you had to work for those moments of brightness and joy. And you both really relish giving those moments to each other, even if it comes in the form of an unbroken streak of cooking eggs for one another every morning.
Point being, our time in Chicago has been a time of personal growth. We've learned that all relationships—near or far, in your house or across the country—take work to nurture and grow. Our lives are rich here, with weekly family dinners care of our Chicago Kersten/Riechers/Segalini/Millard clan. We have a network of friends, colleagues, and weirdos synced up to my CTA schedule that make a big place feel pretty small and cozy most of the time. It's hard to say goodbye, but it's time for the next thing.
Time for a change
After the wedding, we sat down and gathered our thoughts on what our goals in the next five years added up to. They took many shapes, but boiled down to a few core tenets:
Life is too short for three-hour car rides and hour long commutes. They're okay for visits, but not our favorite way to live. Adding up the hours lost on CTA has become a favorite form of self-torture.

We both need to kick the next phases of our careers into gear. The Chicago Public School System and its teachers union have made it abundantly clear that political gamesmanship will always trump any desire to make the district a good place to make a teaching career. And I've realized I have a lot to learn about research, teaching, technology and math if I want to keep up relevant skills in the evolving media world.

We want a house, and can't afford one in Chicago. This one is really because Laurie was slowly killing me with $400K Redfin listings via text message.

Our dogs really want a yard. Seriously. Mac will always want to run the neighborhood watch, but they clearly love having a yard to run around in on their own terms, and we love them enough to make it a priority.

And probably the adultiest of all: We want to start making more permanent, lasting life decisions to give us the stability we need to adopt our first child. ::heavy panicked breathing::
The way forward
I hope to use this newsletter thing as a way of documenting what's next for us and celebrating some of our greatest hits here in Chicago (I have many arcade and brewery recommendations, surprising no one).
For Laurie, right now that means waiting for Madison area schools to call. She already used her super slick Chicago connections to get a foot in the door, and knowing her, she's going to be running the district in no time. That said, if you hear of any early childhood teachers on the fence about retiring at the end of the year, try to nudge them in the right direction for our sake.

For me, the path is a little unclear at the moment. I know a lot of great people doing good work, and it seems like I can get by doing freelance work and gigging it until I start school, likely in Spring 2017. I'm working on getting my business dealings organized under one umbrella I'm calling mark.support. Stay tuned to see if that becomes An Actual Thing.
I'll be pursuing a research masters degree (with the option to continue on to a PhD) through the UW-Madison School of Journalism and Mass Communication, with an emphasis on media technology and the use of public data—everything from public research data to bus tracking to police, crime, and budget info—to augment reporting. Basically, I want to be Q for future newsrooms and nonprofit journalism outfits. So I have a lot of stats to learn, among other things. For instance: how much can I scalp Badger tickets for these days? Will that pay for grad school?
Since I don't know how to end this and it's going on forever, let's wrap with some verbs.
GO: Ireland. Seems like a cool place, so we're going there in July for our honeymoon. Also known as an expensive plane ride followed by a road trip on the wrong side of the road.
DO: Great Taste of the Midwest. We got tickets for the first time ever! Right? No really, we've never been!
READ: Snow Crash by Neal Stephenson, then throw your copy of Ready Player One in the garbage.
PLAY: Superhot, a game where time moves when you do. It's probably the first game to actually replicate what it feels like to be in the Matrix.
WATCH: The trailer for Beyond Human Nature, which I'm shamelessly plugging mostly because I cannot wait for another Wisconsin-themed true crime story.
DRINK: We had a lot of amazing rarities during our Madison Craft Beer Week excursion, but Karben4's Malt Bomb stuck as my fave. I'm a sucker for a wee heavy.
EAT: Consider this a public re-opening of #SconeQuest, the neverending search for Madison's best scones. Current and possibly unbeatable favorite? Chris and Lori's Chocolate Chip Espresso scone, a Farmers' Market staple. I may have proposed it as a wedding cake alternative.

So, see you all again soon?
Love,
Mark and Laurie
(also Bacon and Mac)