Nevertheless, she persisted
Well, hello there. It's been a few months. A lot has changed since September. The big news is that Mark and I moved, yet again. While it is not into our dream home and we do not own it, it's a cozy little two bedroom apartment in the upper half of a near-eastside Madison house. My commute avoids the highway completely which is pretty amazing, and is close enough to downtown for Mark to bike to HIS NEW JOB!
Second bit of news, Mark landed a pretty sweet gig at Wisconsin Public Radio on their only national show, To the Best of Our Knowledge, as their digital producer. But I'll let him take over to tell you more about it:
"I make the internet there. I like it."
While there have been a lot of good things happening personally for us, I look around the world and see a lot of scary and uncertain things happening. I'm not one to mince words: shit is fucked dude. Mark has started Googling the words "fake news" to see if the dictionary definition has been changed yet (he's lost faith in words to the point that he communicates mostly in GIFs these days). Education policy priorities in this country now center on vouchers and bear defense. The Doomsday Clock is two and a half minutes to midnight. That doesn't seem great. I'm scared of what is going to happen next. It's hard to stay motivated when day after day after day I feel out of control, losing sleep in the night over what news I'll wake up to. Certain Alt National Park Accounts help make me giggle. There are rallying cries that make it feel okay for a while. The occasional listicle help me make sense of how I'm feeling and what I can do next. But most days I feel more like this: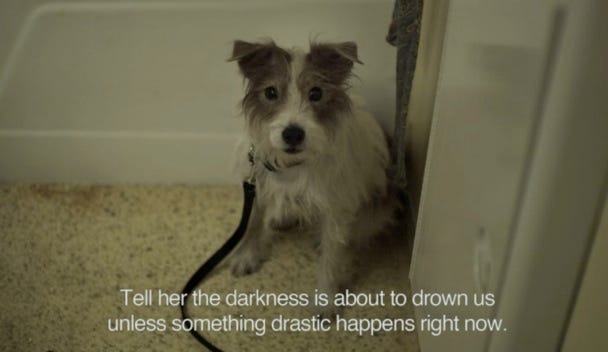 I'm having a hard time staying motivated to do much of anything these days. It could be constitutional crisis anxiety, a crucial lack of vitamin D, or the fact that I just turned 29. Or maybe that my doctor inserted a birth control implant on a nerve in my arm and it was so painful that I had to have it removed after a week. Or maybe some combination of all of those things.
Even working out has become a huge hurdle for me, not that it's ever been easy, but especially now. We are trying to meal plan to make sure that we are eating healthy during the week and stay on track. But getting to the gym has been damn near impossible. I know that my mood, health and energy would improve. I know that I need to lose weight to get off of my high blood pressure medication. I know it's all about getting in the routine and making the time. All these things I know, I just can't seem to get there. I have gotten a lot of advice, but I'm not looking for any—turns out I just need some motivation.
READ: Looking for help not losing your damn mind right now? Maybe this can help. Mark has also been reading a great book on cyberbullying that will be the basis of the first full radio hour he's producing.
ACT: "Privilege is when you think something isn't a problem because it's not a problem to you personally." Pick a cause. Use your privilege and do something good. If you're having trouble figuring out what you can do, start here: The Big Hundred. Or here: VolunteerMatch. Or here: Kiva. Or here: American Red Cross. If you have any other places or organizations please let me know!
SUBSCRIBE: Two of my favorite lady podcasters, Cristen Conger and Caroline Ervin, recently quit their jobs in an act of mother fucking girl power and started their own Tinyletter called Unladylike and work on their book of the same name. Cristen also has her own Tinyletter called The Do Better Dispatch which is basically a history lesson in Feminist AF ladies from history.
PLAY: Remember Limbo? That developer is back with a new game about a young boy who frantically attempts to escape a fascist government facility only to be drawn deeper and deeper into the madness of what's happening inside. The game is called, uh, Inside. It's not as depressing as it sounds—excellent puzzles and an ending that is completely bonkers.
WATCH: Black-ish. If you're not watching it, you need to. They tackle important issues in the most amazing ways. Tracee Ellis Ross deserved the shit out of her Golden Globe win this year, she's killing it. Catch up on Hulu.
LISTEN: Clearly we are going to plug Mark's new gig: To the Best of Our Knowledge. Their episode called "Man Up" is about what it's like to be a man in today's society. It both intrigued and infuriated me, so that's always a good sign. Mark produced an episode about adapting Carl Sandburg's poems about Chicago to music.
But also, if you aren't listening to public radio right now you should get on it, they are doing some amazing reporting on what's going on in the country right now - On the Media, This American Life.
Bacon just started snoring more loudly, so that must mean it's time for bed.
Until next time,
Laurie and Mark (and Bacon and Mac and the mice in this apartment)