A Happy 2020 from Mark, Laurie, Mac and Mr. Bones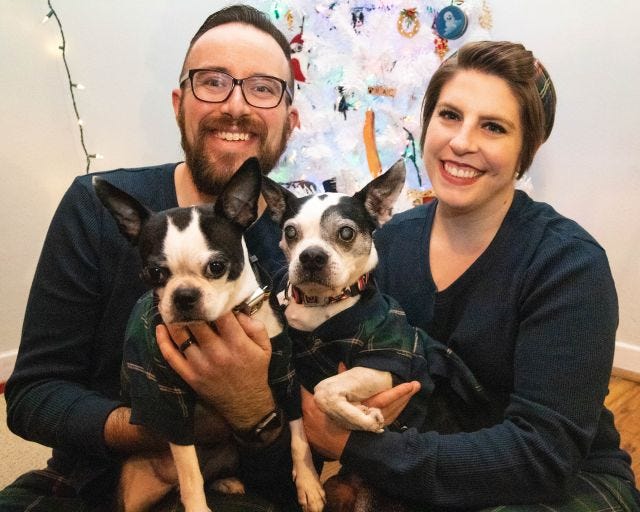 As if the holidays weren't chaotic enough, some time over Christmas, Mark started the "small" remodeling project of rebuilding our closet in a different part of the house. This involved spray-painting iron pipe, ripping out drywall, putting in new drywall, sanding (fuck sanding, seriously) and painting, all while tip-toeing around the piles of clothes stacked up in maybe-clean-maybe-dirty piles on the bed, next to the dog crates, and on the floor outside our room.
In short, it was chaos. And because the holidays are for family — not for DIY home renovation — the project was completed very, very slowly. So much so that it felt like we'd be sleeping in a den of dust, painter's tape and dirty laundry for all of 2020.
But it did all come together. It looks great — we have three times the space for our clothes, we're making better use of space both in our room and in a weird part of the house that has always felt annoyingly useless, and Laurie picked out a great new orange paint for an accent wall that adds a note of brightness to every morning as we wake up and start the day.
It was messy, frustrating in ways we couldn't predict, and even a little sad — we're a long ways away from that upstairs bathroom. But we got through it together. And that's how we got through 2019. With any luck, 2020 will look like our new closet.

‪The best thing I can say about 2019 is that it's over.
In fairness, the preceding decade was the best time of our lives by every measure — we both graduated from college, moved in together. We adopted Mac from a lady on Craigslist 😬. We moved to Chicago, where Laurie found her calling and became a teacher. We adopted Bacon from an awesome Boston terrier rescue that became an amazing community to be a part of. As you may have heard on the radio, we got married in a movie theater. We went on a incredible honeymoon to Ireland. Mark landed his dream job. We bought a house, and it only took a full year of renovating and cooking in an Instant Pot in the living room before it had the perfect kitchen. Laurie started grad school — she graduates this spring. We have so, so much to be thankful for.
But it's hard not to see 2019 as the dark final chapter of the decade. We went through hell treating Bacon's cancer, uncertain we were making the right decisions and eventually thinking we were in the clear, only to lose him a month later. It's hard to even write the details without reliving them — he died in Laurie's arms, after we tried everything we could to save him. It left us deeply, darkly sad — it was such a cruel coda to what had felt like such a happy ending in beating cancer after a hard surgery and five rounds of chemo.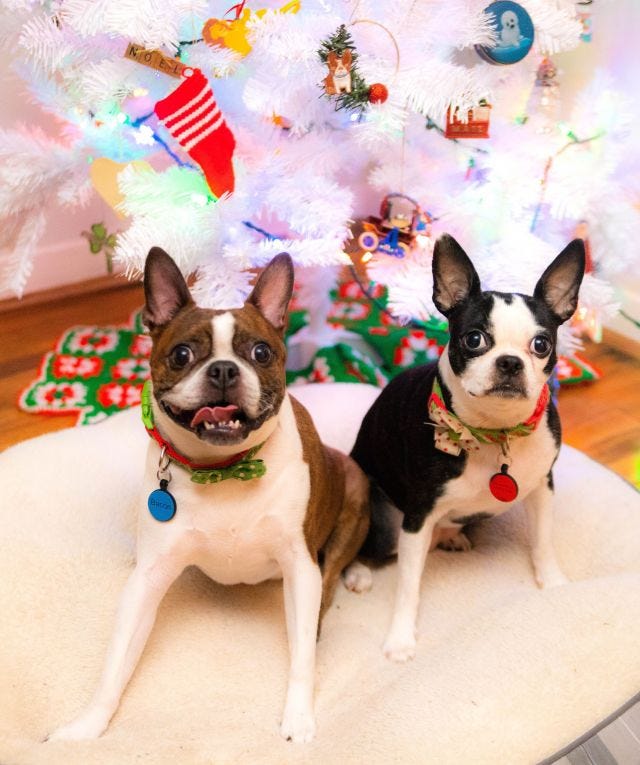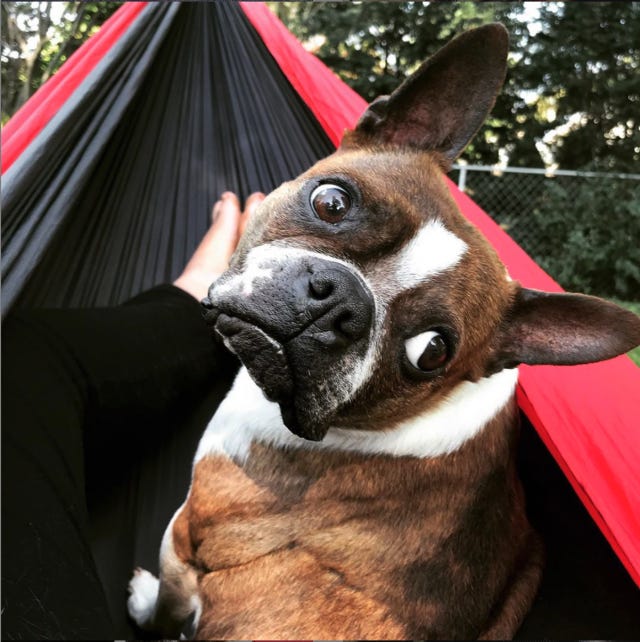 Laurie changed jobs twice. The first time she was structured out of having a classroom and opted to move on earlier than planned. So while juggling job interviews and finishing up an intense semester of grad school, she landed what she thought would be the perfect job at the Goodman Community Center, right down the road from our neighborhood. We were excited to bike to work together — it was just another thing that made us feel like we had finally turned a corner this summer.
But it only took a few weeks to see that the management of the early childhood program there was totally unprofessional and untenable. It was very hard for Laurie to leave a classroom of kids mid-year, but she knew she had to take an opportunity to move to Frank Allis Elementary in mid-November and take on a new challenge: kindergarten. Specifically a class that had had no permanent teacher since September, a room with many kids in need of extra care and attention. It's been hard work, but the work she signed up for. Mark was relieved to hear stories about kids throwing chairs and crying about being pushed and doing all the things kids need to do to learn how to be functional adults, rather than stories of adults behaving like children.
This was a year that we really needed to lean on people to help carry us through, and our people really stepped up. We wouldn't have survived without all of you.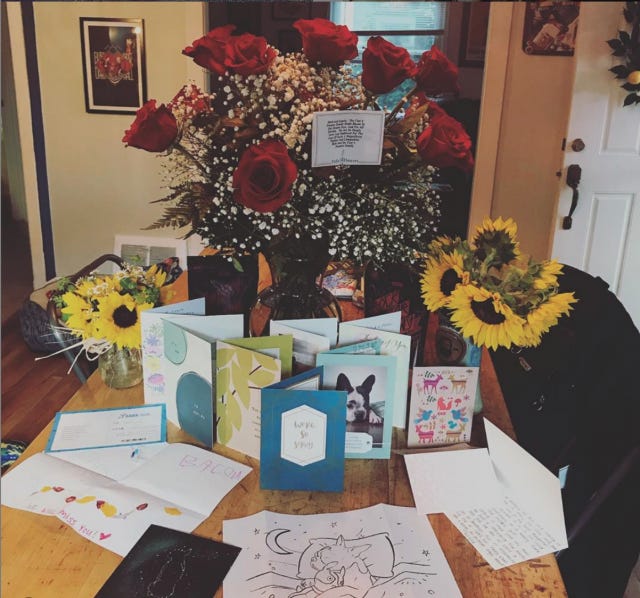 As hard as it was, Bacon's cancer ultimately helped us see how truly good people can be. It was the small kindnesses that made us feel less alone during a lonely, scary time. From the outpouring of generosity and kind words of support when we started the GoFundMe for Bacon's cancer treatments, to the pure joyful cheering in the comments of every update on his progress on Instagram, we weren't expecting the outpouring of love we received.
We had support in unexpected places in the real world too. Liz, the veterinary tech who kept Bacon calm through scary trips to the vet by letting him lick her face to his heart's content. Our oncologist Dr. Shiu, who was confident that Bacon would weather his treatment well and proudly posed for a group photo on the day Bacon got his clean bill of health. Beth Viney, Ann Lippincott, and everyone at Czar's Promise, who shared their own stories of companion animals being treated for cancer, and provided both financial and emotional support at a time where we sometimes felt like we were running on fumes.
But most of all, to our friends and family that have held us up over the past year: thank you. It was your constant love and care that sustained us.
You gave us your hard earned cash when Bacon's chemo treatments were skyrocketing.
You brought us copious amounts of McDonald's breakfast items the day that he died. You brought us meals that you forced Laurie to eat. We've never had so much pizza sent to our house, ever.
You sat with us when all we could do was cry because it felt like our hearts had been pierced, smashed, and could never be re-assembled.
You sent us flowers, cards, drawings from kids.
You suffered along with us as you went through your own terrible 2019.
We thank you. We are still healing, and some days are easier than others — Mark has only recently stopped crying when he drops ice cubes in the kitchen — but therapy helps.

At the very end of what was truly the worst year of our lives, we finally started to see the light at the end of the tunnel. We've adopted Mr. Bones, an 8 or possibly 12-year-old Boston terrier from Texas who needed a good home. Bonk-proofing our home for an alarming mobile blind dog has been a surprisingly good source of healing laughter. Mac clearly misses her brother but seems comfortable sharing us with an overly needy old man (same book, different chapter). It feels like we're both heading into bigger, more ambitious phases in our careers. And as mentioned, our closet in our tiny, adorable pre-fab house is on point.
We, like everyone else, worry about what fresh hell might be waiting around the corner in 2020, but at least we know we have everything we need to get through it.
With love,
Mark, Laurie, Mac and Mr. Bones